What's New
2020-10-29
Beware of Con Men Posing as ICAC Officers
In recent years, ICAC received complaints about con men posing as ICAC officers in deception cases. Overseas Chinese and local Hong Kong citizens alike fell prey to these scams.  
In these cases, victims were often told that they were suspects of some unlawful activities (e.g. corruption, fraud and/or money laundering), had earned a great deal from investments or had won a lottery.  Whatever the pretexts, the victims would be asked to remit money for certain purposes.  The money would then be withdrawn soon after remittance and the imposters disappeared into thin air.
Bear in mind that ICAC would never demand deposit or money, or ask anybody to remit or transfer money to any bank account for investigative purposes.  If you encounter similar situation or have any queries, immediately call the ICAC 24-hour Report Corruption Hotline (852) 25 266 366.
Stay alert and click here to learn more about the tricks used by fraudsters!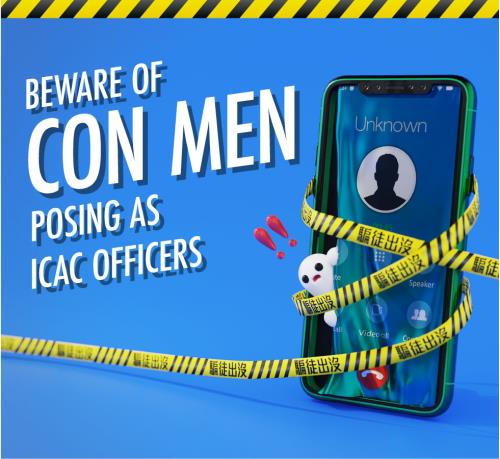 ​